We recently had the chance to sit down with Taniya Nayak to discuss her exciting new wallcovering collection launch with us. From taking a closer look at Taniya's professional journey, to her personal design process and how she finds inspiration, we cover it all. Taniya even shares with us some of her favorite styles from the collection, although she will tell you herself it was hard to pick just a few! Read on for our full
chat below.
Q: Thank you for taking the time to chat with us today! We would love if you could start by
introducing yourself! How did you first get your start in design?
I was born in India, and I moved to the Boston area as a child with my family. I still live in Boston today with my husband and dog. My father was an architect, which is a huge part of the reason that I pursued a career in design. Towards the end of college, I auditioned for a TV show called Knock First for ABC Family, and so began the public side of my career. My design firm is Taniya Nayak Design, Inc., and we design a variety of commercial and residential spaces around the country with a sweet spot for restaurants. I recently launched my podcast with MuddHouse Media called The Break. I am still active on television, and this year you'll be able to see me on two HGTV series, Build It Forward and Battle on the Beach, Food Network's Restaurant Impossible with Robert Irvine, and on ABC's The Great Christmas Light Fight again this December.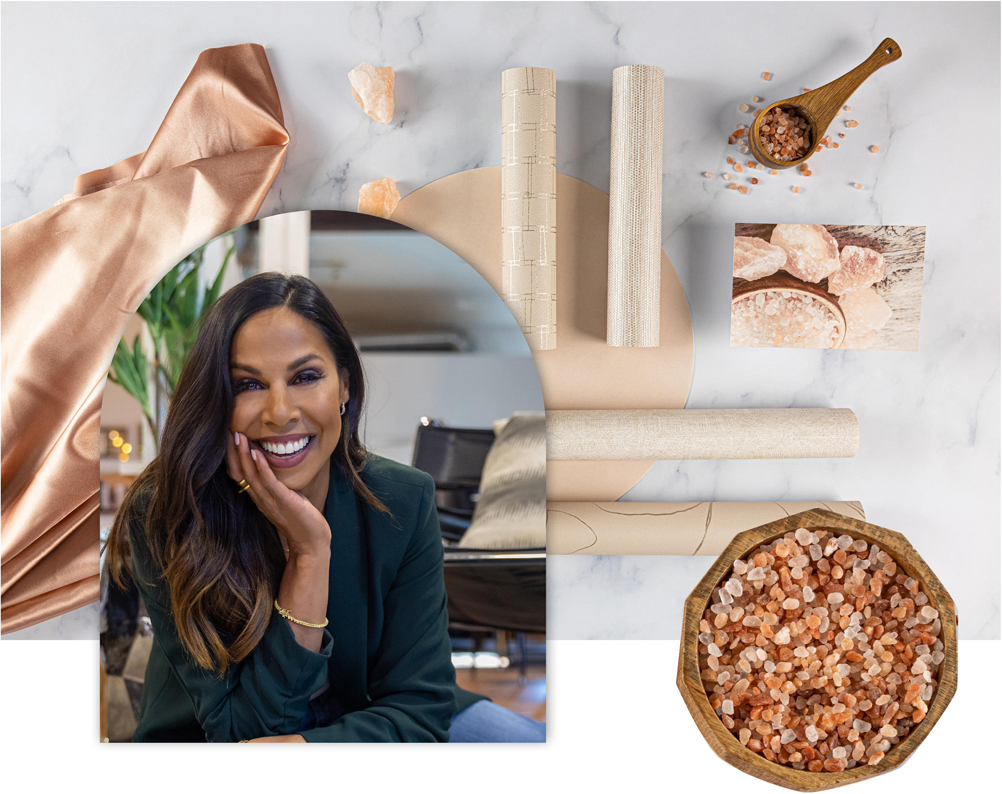 Q: How would you describe your design style/aesthetic?

Livable Luxury. I love a design style that is meant to be lived in. As a restaurant designer, I always try to strike a balance between being unique to the owner while still appealing to the masses. I find that lighter, more neutral schemes with plenty of texture tend to have longevity in hospitality design. I find my own personal design taste to follow the same type of aesthetic. I also love a good statement piece in a room!

Q: What inspires you? How does your heritage and close tie to your family inform your designs?

I am inspired by the people that I design for. I'm inspired by their surroundings and what is meaningful to them. Innately, my personal influences are there, but my designs are very much catered and inspired by the people who I am designing for. My design tie to my family is that my father is an architect, and my family is from India. The richness of culture, family gatherings and hospitality are what has helped shaped my design sensibilities.

Q: When you are at the beginning of a new project, what is your typical design process? Or does it change from project to project?

Typically, I begin with a personal conversation with my client. I want to know what is important to them both in life and as far as their design aesthetic is concerned. I then follow that up with a concept board to make sure I understand their vision. I tell them to cross things out without thinking too deeply into it. What feels right in their gut. And then it's round two on the concepts. At that point, we follow up with floorplan layouts, budget estimates, then furniture, fixtures and equipment, followed by selections, orders, installs, and voila! (I wish it was that quick!!)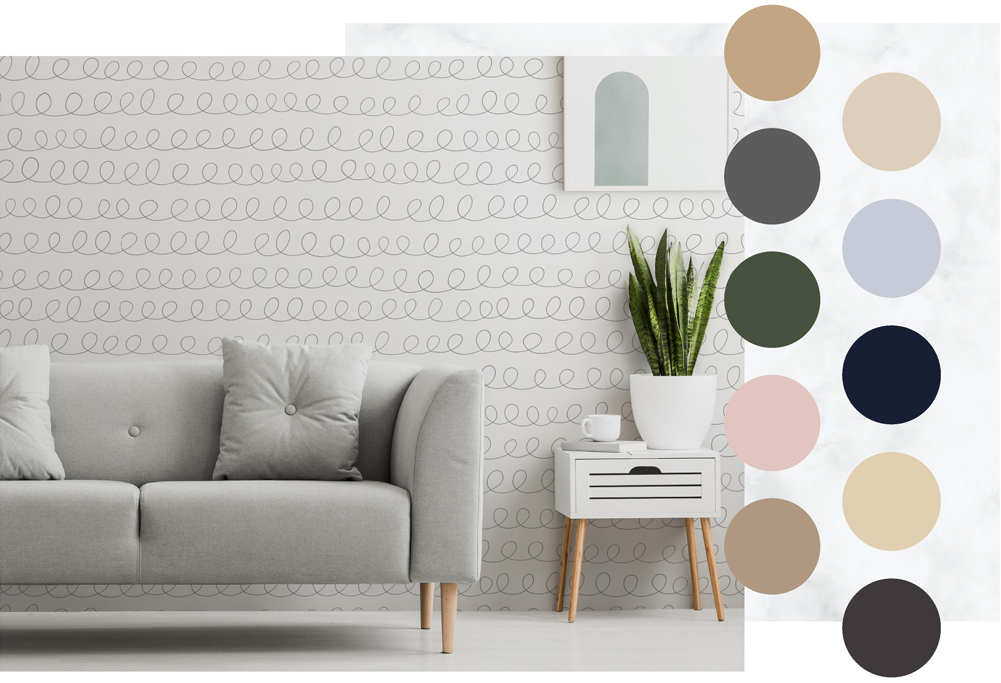 Q: What has been one of your favorite projects you have completed recently? Tell us a little
bit about it!

We recently designed a restaurant in Newburyport, MA, called Tuscan Sea Grill & Bar. The restaurant is a complete dining experience with open kitchen concepts, waterfront dining, and a unique space with vaulted ceilings. Every detail and every material were carefully vetted out. We are very proud of that one. Plus, it's always a bonus when the food is amazing as well!

Q: What initially inspired you to create a wallcovering collection? Did you feel there was a niche
in the industry that wasn't being filled?

For years, I have been designing large-scale, high-end restaurants. I found that I would often have a difficult time finding wallcoverings that had a similar color palette with different scale patterns. When all of my selections would go out of stock (which happens all the time), it would be a complete reselection across the board. This happens often with designers working on hotels, restaurants, office spaces…you name it. It can be frustrating when trying to meet clients' budgets and timelines. That is where the idea came from to create a line that had a variety of patterns in different scales from solids, to micro patterns, to large scale patters…all within the same color family.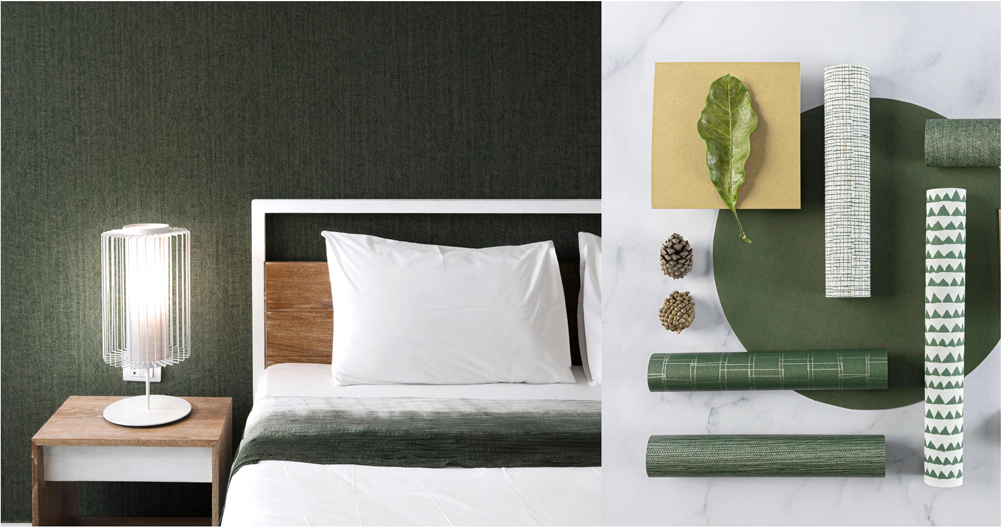 Q: Can you elaborate on why it was important for this collection to be shopped by color? What are the advantages of merchandising in this way?

As a designer myself, the first thing I do is look for a color group when searching for a wallcovering. I feel that this will make the search a lot easier. This way, designers can find the color and THEN find the pattern or patterns in this case.

Q: When it comes to your partnership with MDC, how did you know it was the right fit?

At Taniya Nayak Design, Inc, we have one of the best reps and work with MDC products all the time. Their products are quality, they are great to work with, and we love the variety that they carry. I first chatted with my rep about the idea for a partnership. She introduced me to her boss, and it took off from there. It took 2 years of planning, designing, sampling, and we finally got it exactly where we want it.

Q: How would you describe your collection with MDC and Len-Tex?

The collection is inspired by colors that have a more neutral base. I wanted colors that have longevity and a product that is durable. The patterns range from solids to micro patterns to large scale patterns. The intent is to have a hand-drawn feel to some of them. I love an organic texture and you'll see a lot of that, too!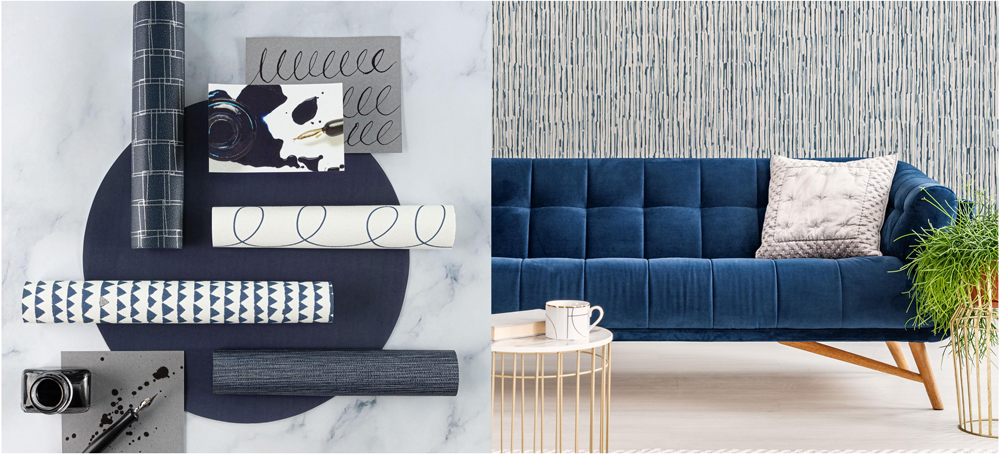 Q: What kind of applications would be ideal for your collection?

This wallcovering collection is ideal for high traffic areas. It is very durable and sustainable. Ideal usage would include main dining rooms, hotel lobbies, public restrooms, hotel rooms, vestibules, etc. The intent was to be able to use this with the various colors and patterns available, in every room of the project. The styles are also sophisticated enough for home use.

Q: What kind of emotions do you hope to evoke in people with this collection?

I hope that this line feels more personal to people than what you may typically find in a "commercial application" wallcovering. I design all spaces from residential to hospitality, and I want this line to be a great fit for all project types.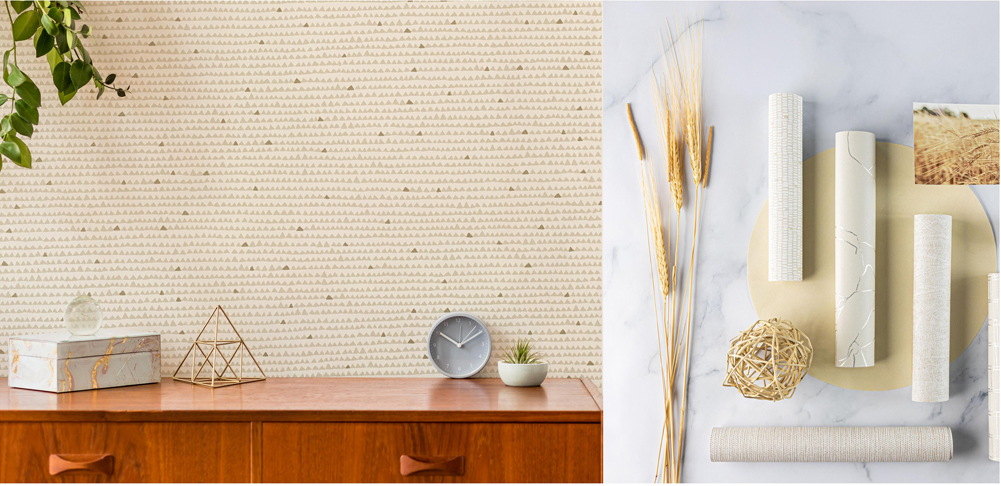 Q: Do you have an especially favorite pattern or color scheme found in the collection?

I especially love Imprint and Bloom. The colors… that's a hard one because I chose them
all so carefully. I love them all! Forest will definitely make any space magazine-worthy!

Q: Could you describe your overall experience working with MDC?

It truly was the best experience. Everyone involved has been very hands-on and passionate about this new line, just like I am. I love working with people that love what they do and are excited to try something new. MDC is one of the most experienced companies in this industry. They stay on top of innovation and believe in what they are putting out there, which is why I know that this line will have great success.

Q: Any other general comments are also welcome!

On a personal note, I am beyond grateful for this opportunity. The team pokes friendly fun at me because I can't talk about this line without crying. Who cries over wallcovering!!? I do. That's who.