We recently had the chance to catch up with Nicole Lorber, owner and designer of Distinctive Interior Designs (DiD) located in Marlton, New Jersey. Together with her firm, Nicole recently completed an impressively dynamic commercial design project spanning 35,000 square feet of headquarter space for a
large public company. Read on as we hear more about this project, referred to as the Corporate Project, from Nicole while she details her inspiration, her design process, her favorite MDC products used in the space,
and more!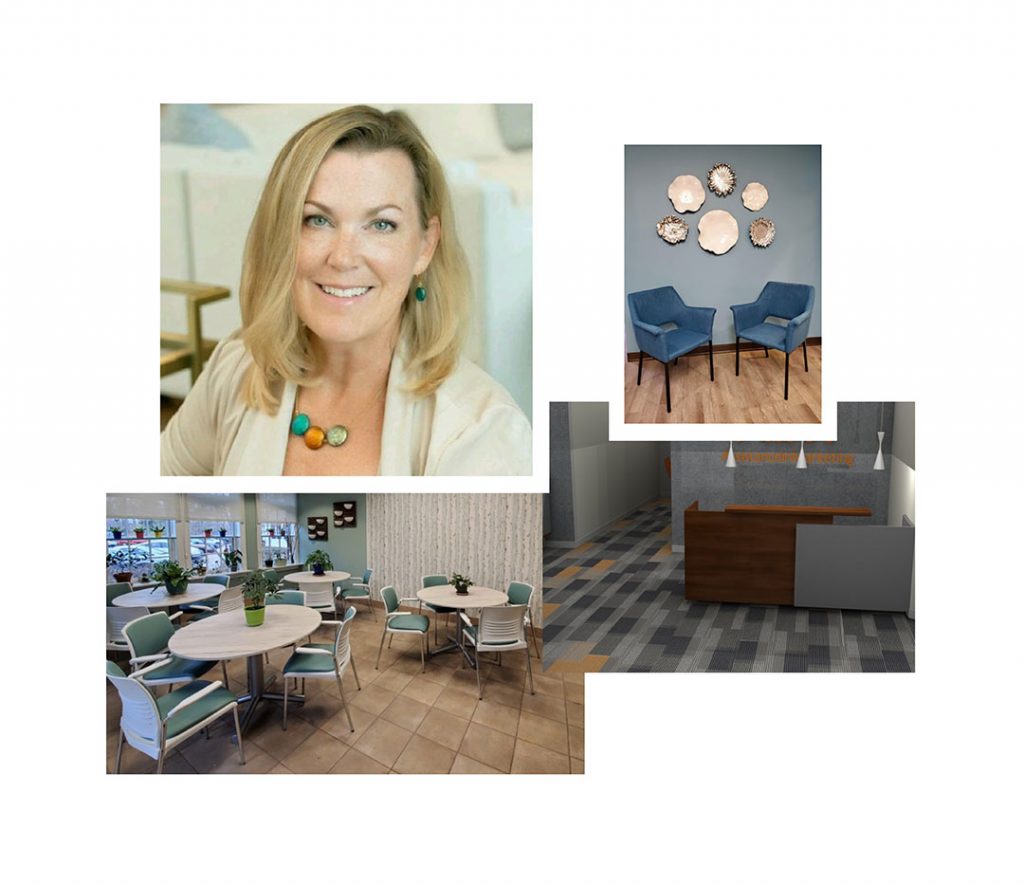 First, we were curious to learn more about Nicole's unique design taste and style. When asked she says, "I really don't feel I have a particular style. I've always aimed to be a chameleon. If you look at my portfolio, it's very broad ranging. I guess the underpinnings of my projects are all about delivering spaces that have a great visual connection and that aim to deliver 100% of my clients' functional needs, even if that need is to create a wow factor."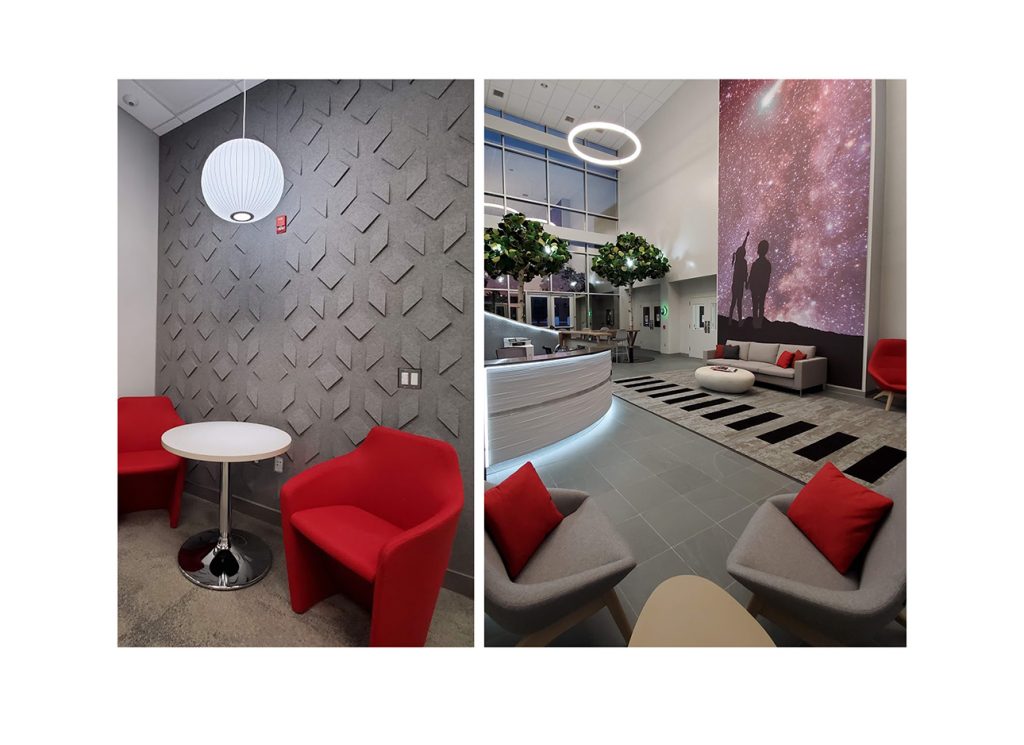 And, when it comes to the Corporate Project, we can instantly see what she means when she refers to a wow factor! Nicole continues, "My client's main goal in the Corporate Project was to create a space that had a direct tie back to the company's logo (thus the red hexagon underpinnings). [We aimed to] deliver a vibe that would ensure they could pull in the hundreds of high-quality employees and scientists they would need [in order] to launch the company to the next level." And, of course, DiD wanted to do this all while still including a splash of fun at the same time.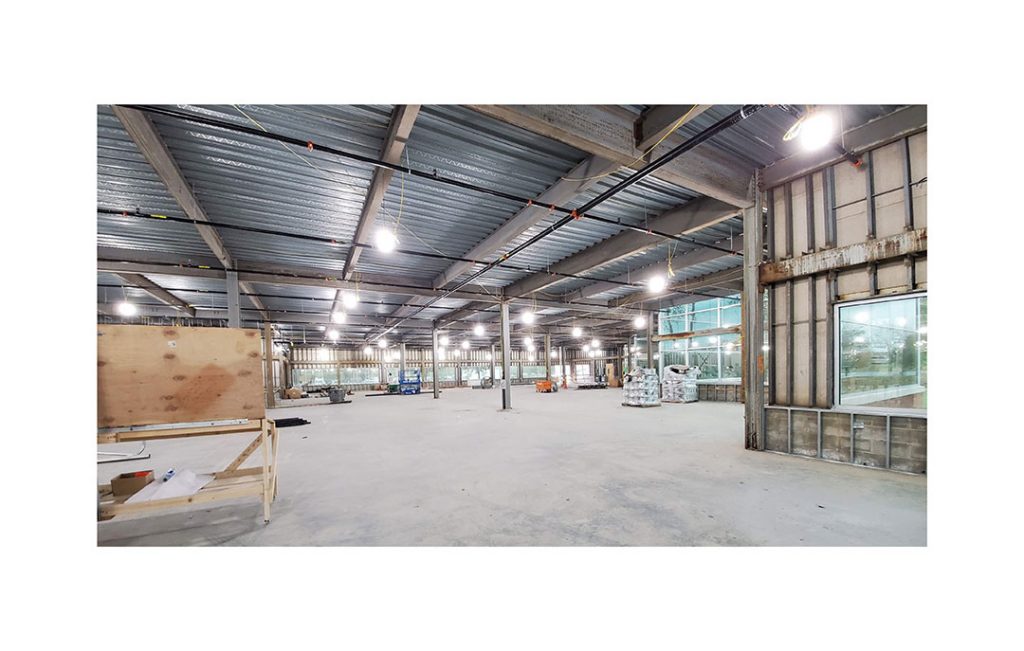 While the completed space looks perfectly placed and meant to be, Nicole reminds us that this project in particular was one that started out as bare bones. "The architectural plans for fit-out were done, but, otherwise, it was a raw space. Only a shell of the building, the rough electric, HVAC and plumbing were completed." After first identifying the client's request to include an abundance of red while still maintaining an overall calm aesthetic, Nicole was then able to source the perfect carpet tile to complement the space. While fusing these design elements with functional goals such as creating spatial boundaries and avoiding a corporate hierarchy layout, Nicole pieced together the ideal assortment of design elements to truly make the space sing.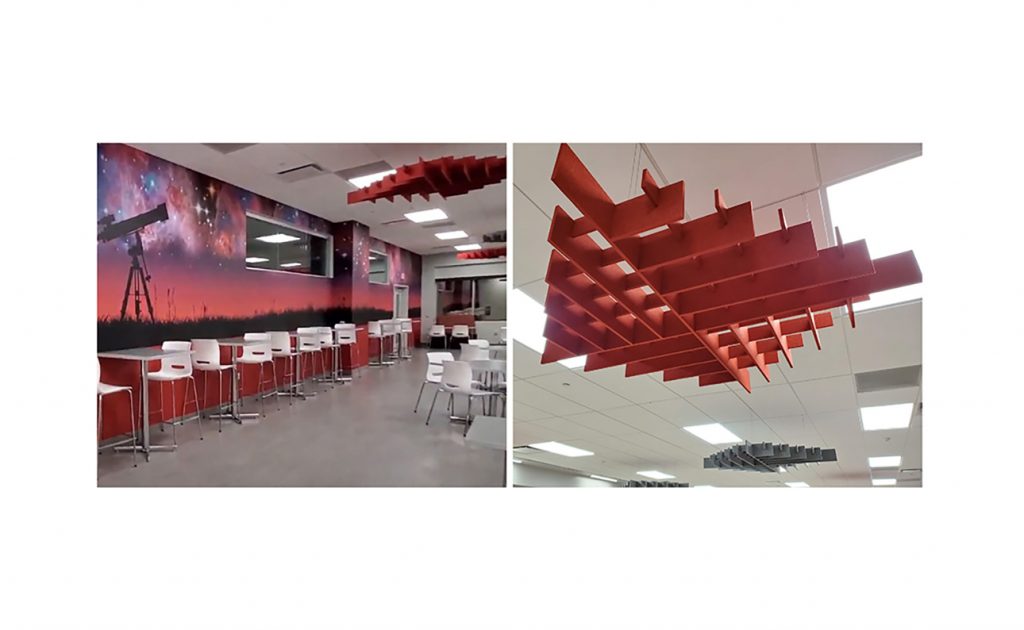 Then, of course, it was time to address the acoustics of such a large and open area. For this step of the design process, Nicole shares, "Thankfully, I met MDC at the perfect time!" She explains that her MDC rep helped her address concerns around sound reverberation and specific solutions that could help to solve this challenge. Alongside her MDC rep, Nicole was able to pinpoint specific MDC products that addressed a plethora of sound issues for varying areas including the "glass walled huddle rooms, offices, and the board room, as well as the dual visual and acoustic concerns in the expansive ceiling space of the cafeteria, plus the 30' x 60' lobby!" Some of Nicole's favorite MDC elements included the use of the Dimension Walls collection plus the wide-ranging selection of Zintra acoustic wallcoverings.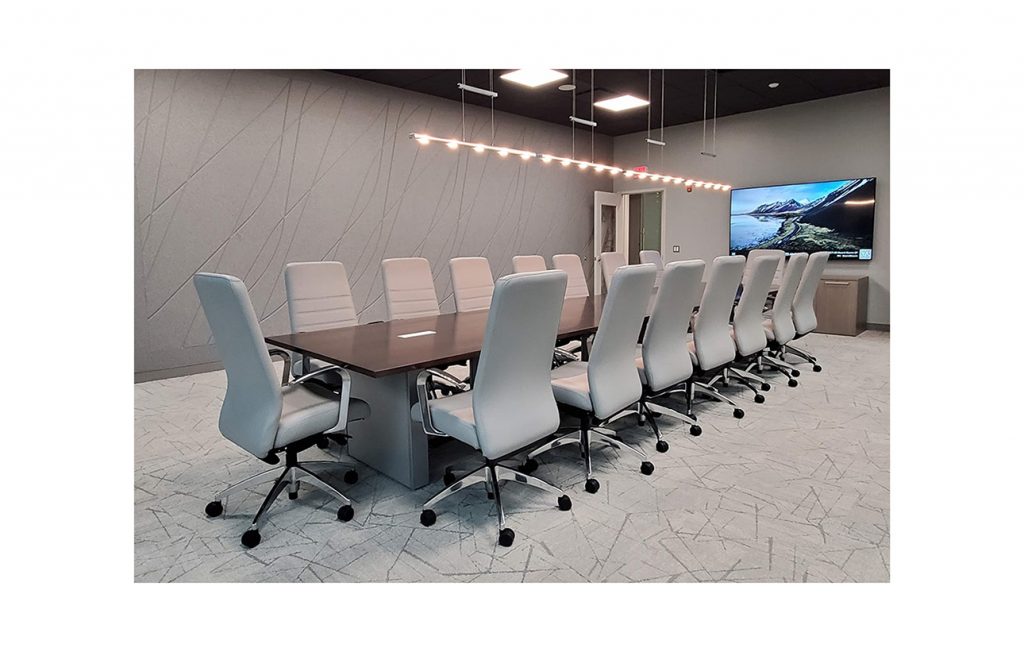 While this project was unique in style and function requirements, it was also special in the fact that it spanned across the same timeframe as COVID-19. Nicole shares, "As a result of COVID delays, this client relationship was stretched out the longest DiD has ever had, and, thankfully, my contact and I really enjoyed working together and had a blast getting to know each other! She told me that she had been completely overwhelmed by all of the decisions and communication she had to do and was a bit at a loss about where to start." Based on the final product, though, you would never know it, and that in itself is what makes for a great design success story.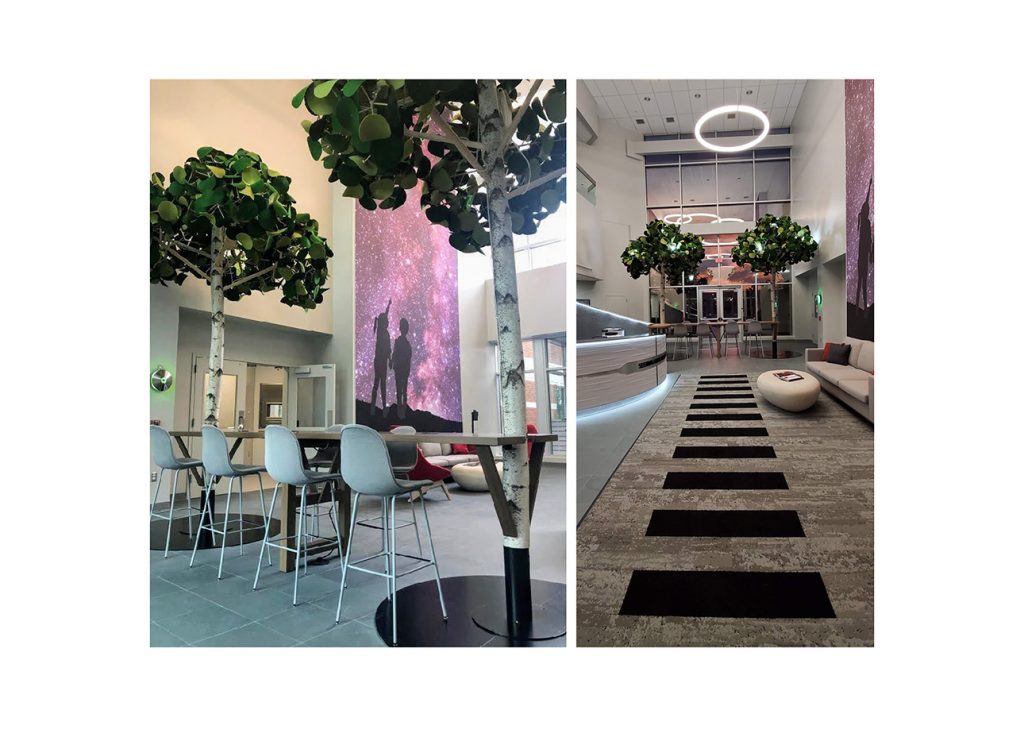 When asked what her favorite part of the Corporate Project was, Nicole immediately shared, "The lobby! Every single aspect! There was a freaking cool desk that really does look like a slice of a corporate ship taking off — designed by us and made by my amazing custom carpenters. [Also] the acoustic digitally-printed custom designed 30' x 12' art to represent the heart of their company — MDC all the way — the acoustic trees with a wave table in between, the modern furniture and, wow, that black and gray carpet!"
For more information on Nicole and Distinctive Interior Designs (DiD), you can visit https://distinctiveinteriordesigns.com now.