Interior design is the closest thing we have to time travel. An apartment complex clubhouse in the Chicago suburbs recently moved out of the 1990s and into modern day, under the expert eye of Creative Director Paul Polk of dL Design Chicago. He combined colors and textures to achieve a more sophisticated image for the property, including Factory wallcoverings from MDC.
"Our objective was to modernize the clubhouse and distinguish it from other properties in the area," Polk explains. "My client wanted a more high-end and luxurious look that would appeal to a younger audience." Having recently unveiled a new brand image for the Palatine, Illinois apartment complex, property owners also wanted to incorporate their new colors into the clubhouse.
When Polk saw MDC's Factory wallcovering designs, he recognized an opportunity to do something dramatic without overstepping the project's budget.
"I like to add a bit of the unexpected to every design I create, and wallcovering is a way to make a huge impact," Polk says, adding that today's materials are easily installed and removed. Polk originally planned to choose a bold pattern for accent walls, but he changed his mind when he saw Factory.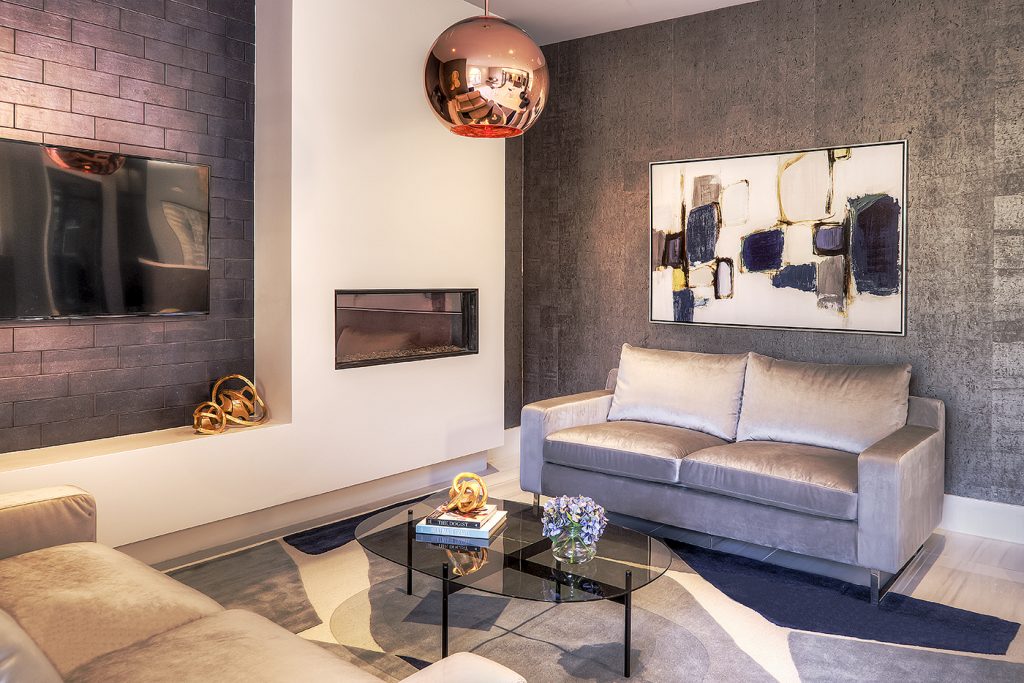 Made of pressed cork over mylar, Factory looks high end but Polk says it was surprisingly affordable. And the Ink Press pattern has flecks that look like copper, which is one of the Palatine complex's new brand colors. It was the perfect choice for the clubhouse. Polk used the Chalkboard pattern in the adjacent lounge area. The textured wallcoverings make a bold statement Polk describes as "safer" than bold patterns, which aren't always universally appealing.
The 6,000-square-foot renovated clubhouse is now a beautifully inviting space that marries contemporary design with modern-day comfort. Property owners say the finished look is '10 times better" than the renderings Polk presented during the project's concept development phase.
"My client calls the clubhouse a 'showplace' that far exceeds their expectations. We achieved the 'wow' factor without the 'wow" price tag, and they are thrilled," Polk says. It's easy to see why, especially given the fact that occupancy at the apartment complex has increased 20% since the new clubhouse opened in December 2017.