NEW YORK (November 2018) – MDC and Thom Filicia have proven to be a powerful design duo, and their collaboration continues to build momentum with two new designs unveiled at BDNY 2018, booth #1911.
The two new designs, Oxford and Beguile, reimagine classic textiles with Filicia's signature, modern style. Oxford is a standout design, styled with a two-layered, vertical stripe. A 24 oz. Type II Vinyl, Oxford is distinct and expressive with a classic elegance. It is offered in a selection of 11 sophisticated colors.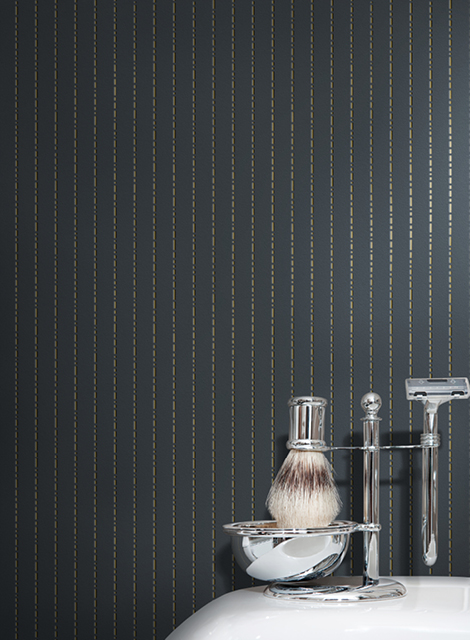 Beguile's soft pattern is tailored and current, with a traditional authenticity. Its soft texture creates interest, while the deconstructed geometric pattern is interrupted with flecks of metallic shimmer.
Thom Filicia, founder and principal of design firm Thom Filicia, Inc., is well-known for his days on the Emmy-Award winning show, Queer Eye for the Straight Guy.
Most recently, Thom is back on TV on Bravo's new show Get a Room With Carson & Thom, where you can catch scenes featuring his MDC wallcoverings. Proximity, featured in the premiere episode, will also be on display at BDNY. Beguile and Oxford are the latest additions to his MDC-exclusive wallcovering collection.
The collection currently offers 29 unique designs that gather inspiration from the colors and textures found in nature, which evoke feelings of serenity and relaxation. Offered in an array of soothing neutrals, the collection also feature pops of greens, blues and jewel tones, adding dynamic interest to any interior.
Satisfying a multitude of design visions, the patterns range from highly textured to large-scale, all while remaining rooted in earthy elegance.
The versatile wallcoverings are stylish and sophisticated, while still meeting the durability standards for contract spaces. The products are NSF/ANSI 342 certified, the foremost standard by which to evaluate and certify sustainability of wallcovering products across the entire product life cycle.
ABOUT MDC
MDC Interior Solutions, located in the suburbs of Chicago, is one of the world's largest sources of wallcoverings and coatings. The company's nearly 50-year history is a story of acquisitions combined with the ability to provide customers with exceptional value, product selection and service. For more information, contact MDC at 847-437-4000 or visit mdcwall.com and connect with us on Facebook, Twitter, Pinterest, LinkedIn and Instagram.
MEDIA CONTACT
Sydney LaRoche
slaroche@mdcwall.com
(847) 437-4000 x8382