"Getting white boards into our classrooms was one of our priorities for this year," explains Nettelhorst Principal Cindy Wulbert. They hoped to replace their outdated chalkboards, some of which were in such bad shape that you couldn't even write on them. But the school realized whiteboards weren't feasible because they are costly, and because of the space they require. Then new Nettelhorst teacher Jason Merel suggested they experiment with a dry erase paint distributed by Chicago-based MDC.
It took about three days to revitalize all those old chalkboards. "We prepped them, we painted them and we were done," says Melody Murphy, Assistant Principal at Nettelhorst.  A single application converts any smooth surface into a dry eraseable one, whether it's a chalkboard, a wall, a table top, a stairwell— you get the picture.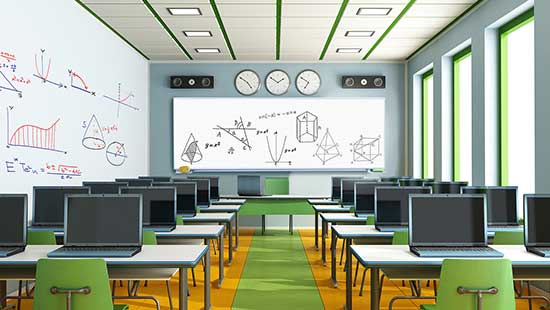 Now that their old chalkboards function as whiteboards, Nettelhorst children have a bright clean surface for drawing word maps, curriculum maps, anything that you can imagine.
No waste, no chalk dust and practically no effort to install
*Paint right over existing chalkboards (or any smooth surface, for that matter)
*Repurpose existing materials versus sending them to the landfill
*Add value and function to a space without spending a lot of money
*Create a dust-free, allergen-free environment. No more chalk!
"The dry erase paint we got from MDC has made our classrooms a place where students want to get up in front of the class, show their work, create their ideas, imagine the impossible.  I'm already thinking of how we can use dry erase paint in other areas of our school," Wulbert concludes.