Even an expert eye can't tell the difference. The ceiling appears to be made of metal panels that lend a silvery sheen to the sleek interiors of the New Medical Office Building for Joliet Oncology-Hematology Associates (JOHA) in New Lenox, Illinois. In reality, the panels are an inexpensive gypsum board coated in LiquaPearl metallic paint from MDC. The illusion was dreamed up by Kaleb Yanko and Bret Mitchell of Buchar, Mitchell, Bait Architects, Inc.
"Our client wanted us to design a 7,500-square-foot medical office building that would really shine next door to a new, high-end hospital," explains Yanko. "We envisioned nice finishes throughout the space with custom metal ceilings to complete the look. But the bid came in too high for our client."
The team got to work value engineering every aspect of the building, inside and out. When it came time to rethink the costly ceiling, Buchar decided to replace the metal with LiquaPearl after their MDC rep showed them how the product mimics a metallic finish.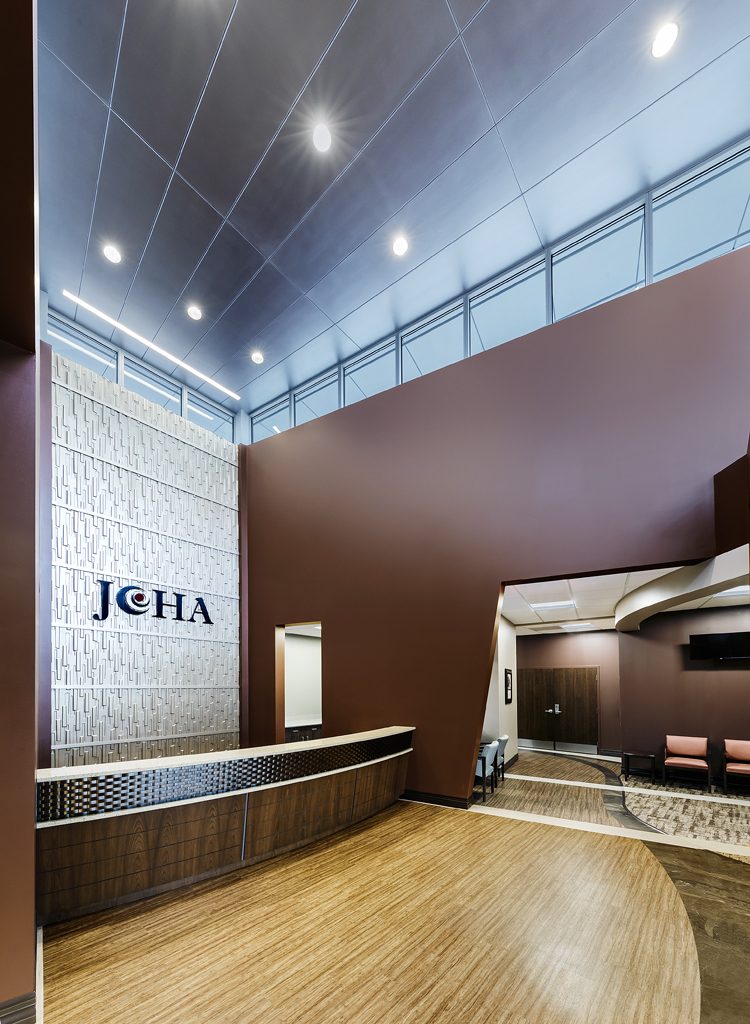 "We realized we had a great opportunity to create the look our client wanted without paying the price for it," says Mitchell. They took the idea a step further and put reveals in the gypsum board in the places where joints might appear in metal panels.
"If we'd painted that product on a 20-foot ceiling with no joints, anybody could guess it's not a solid panel of metal. We spent a little money on the reveals and it made a big difference," Yanko says. Once the ceiling was painted, it looked exactly as originally planned.
"Our client loves it and the cost savings are enormous. It's also much faster to install gypsum board than metal panels, which means a shortened construction timeline," says Mitchell. The client was so pleased with the ceiling that they decided to add a faux-metal feature wall behind the reception desk.
"We also used LiquaPearl to cover exposed columns where we originally planned to install aluminum covers. The painted columns look like shiny metal, and we saved thousands of dollars," Yanko explains. But LiquaPearl offers more than cost savings. It offers the opportunity to create beauty using fewer resources and in less time. The metallic finish may be an illusion, but the advantages are real.
And really impressive.